March 15, 2016
What an MBA Can Do for Your Career
Many working professionals toy with the idea of earning an online MBA, but they're unsure as to whether an online degree carries the same real world clout as one from a traditional university. An online MBA from University of Miami's UOnline program offers the special benefits that students can expect to reap in a graduate program affiliated with a prestigious university, both during their tenure as students and after graduation. The Benefits of a UOnline Degree Anticipating the need for online degree programs that offer the same high quality instructional leadership and rigorous coursework as in-person programs, the UOnline program at the University of Miami has set itself apart as a dynamic online-based program. The same faculty who teach at the AACSB International accredited, University's Coral Gables campus, serves UOnline. 

Experts agree that the most critical factors to consider when choosing an online MBA program are program flexibility, access to faculty and the benefits of a campus program's curriculum and resources. Each of these factors contribute to the quality of your online MBA, as well as the subsequent impact your degree will have on your career trajectory. UOnline has developed an online MBA program that allows all enrolled students to pursue the same courses and curriculum as on-campus students, while ensuring flexibility and adjusting projects and assessments to the needs of the individual. Practical Focus, Real World Applications Among the rigorous online courses taught by prolific professors and successful business professionals, students pursuing their online MBA study topics like "Valuation and Financial Decision Making," "Business Policy and Strategy," "Foundations of Marketing Management" and "Managerial Decisions in a Global Economy." Students gain an understanding of the critical foundation of business ethics in these classes, as well as management information systems and economic analysis. Classes are tailored to professionals with experience in the business world. They're taught by world-class faculty, who make it a priority to remain accessible to the online students who are pursuing a master's degree in Business Administration or other Business Management degrees. 

Student testimonials speak to the real world impact that a UOnline MBA can have on a postgraduate career. UOnline student Stacey Humphrey feels the courses she's taking will make her invaluable after graduation. "It's a huge credibility boost, especially as a woman in the workplace. My field in analytics is traditionally seen as a male-dominated, back-office position. I think as a woman, having an MBA and those credentials will do a lot for my credibility." [caption id="" align="alignleft" width="309"]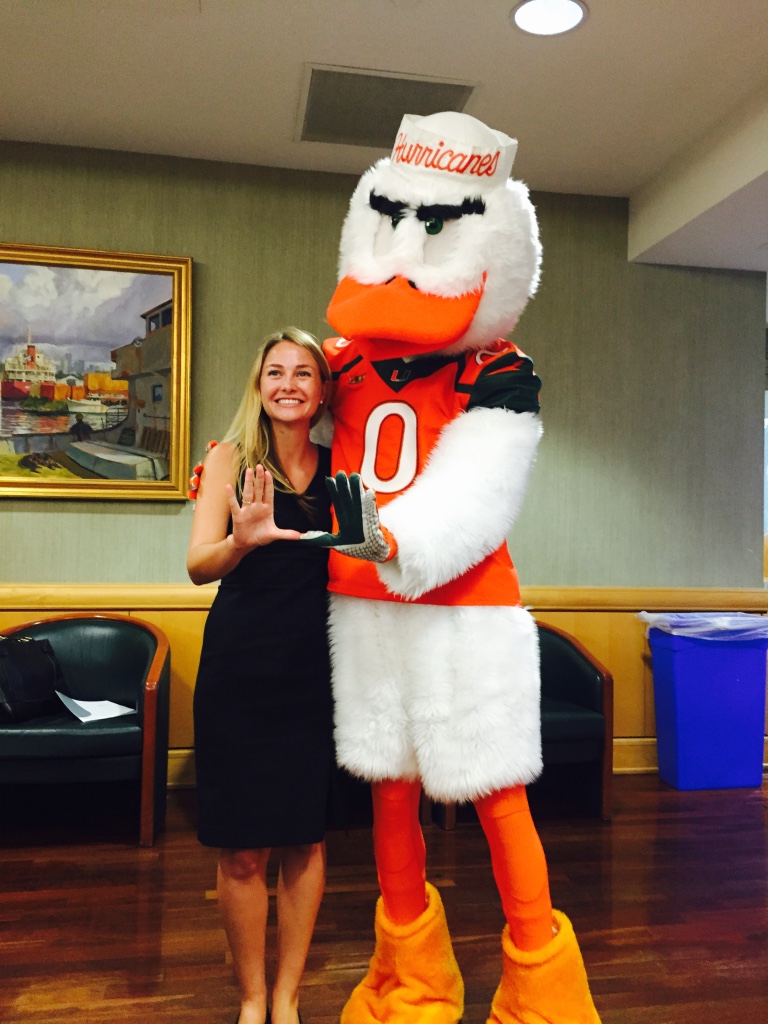 UOnline MBA student Stacey Humphrey meets UM mascot Sebastian the Ibis at Orientation Weekend.[/caption] Life As a Hurricane Whether they study online or on campus, all students at University of Miami can share in the pride of being a Miami Hurricane. UOnline believes that immersion and engagement in university culture is key to maintaining an online MBA program that reflects the values and standards of the institution. At UOnline, an online MBA does not have to mean sacrificing some of the greatest advantages of a graduate program such as collaborative learning with peers and networking opportunities in the classroom. UOnline's commitment to the richness of the online student's experience means that group projects and collaboration with peers are key features of many online courses. 

All students pursuing an MBA online are invited to Miami for a weekend orientation prior to the beginning of classes. Students also have the opportunity to spend a week in residence at the Coral Gables campus, meeting peers and faculty and exploring career networking opportunities. Students graduating from UOnline's MBA program receive the same degree as MBA students on campus, and they participate in the same graduation ceremony. Looking to the Future UOnline MBA graduates leave school and enter the workforce poised and equipped for success, but their connections to the University of Miami don't end after graduation. UOnline graduates have the opportunity to network with the University's strong alumni network. 

Humphrey cited the University's illustrious alumni as one of the key benefits to her online MBA. "It's a tremendous networking opportunity. It opens access to students, alumni and people who are inducted into a special club that you can't get into without those credentials." References 3 Questions to Ask Before Choosing an Online MBA Program University of Miami School of Business Administration MBA Program Course Descriptions What's an Online MBA Worth?
---
---